Time 2 Shine is a specialized car interior and exterior design and enhancements. They work with auto detailing, paint correction, zaino wax, headlight restoration, tire sales & services, and oil change services in their shop.
Improve Time2Shine's brand image and appearance, along with enhancing website conversions and offline branding.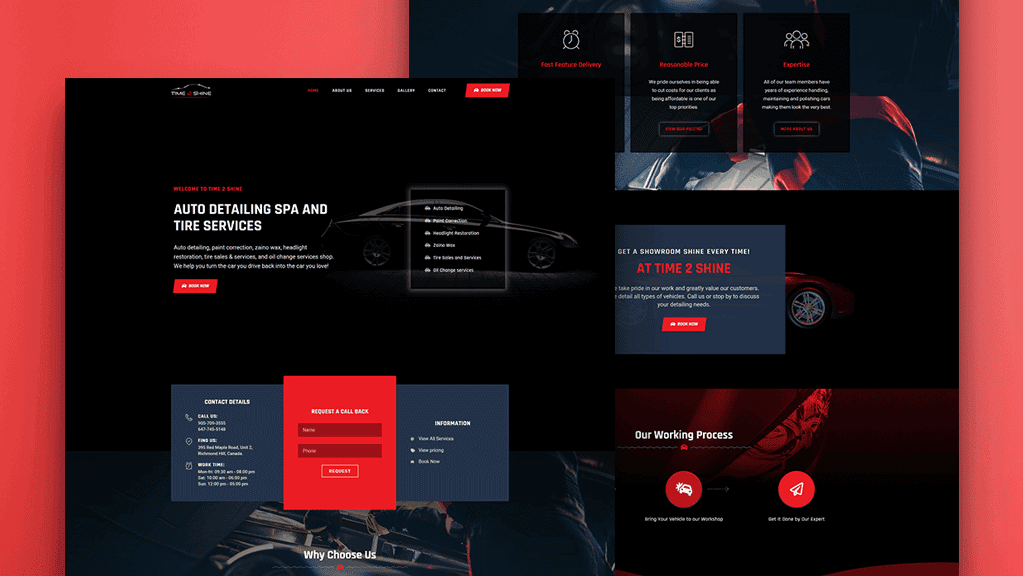 Although Time2Shine had a website, most of the content was backdated and mostly was redundant. The content had very little to know value, and the visuals of the website wasn't well thought out. Time2Shine didn't have a logo, and all its branding materials contained a text-based one. They also had no business card and/or flyer, reducing their scopes of marketing.
To create an awesome brand image and appearance, we created them a new logo that embodies their brand. To come up with the idea for the logo, we dived deeper into their business and their sense of purpose. Our main thinking was to visually illustrate how Time2Shine brings out the shine out of the cars. This explains why the logo has a silhouette of a car which a slight glimmer.
While creating their website, we emphasized usability and functionality over extensive designs. This was the reason for opting for a minimalistic design with a dark color theme.
For the fonts, we wanted a rounded but rectangular fonts to capture the sleek and elegance of the masterpieces. That's the reason behind using the Rajdhani font.
The business cards and flyers were created with the same thoughts in mind – encompassing the brand as a whole.
Time2Shine was really happy with the logo, website, business cards and flyers that we did. They were so impressed that they gave us another project of creating and installing custom signage!
BlueFlower Media created my eCommerce website for my artwork from scratch. In a short period of time the website was up and working with great visuals and smooth functionality for visitors. Staff are friendly, flexible and the project was completed on budget. I recommend them.
BlueFlower Media built our website and did a great job. Noman helped me through the process and made the whole process very easy for us!
What a talented group of next-gen creative minds can do for your business. They put it in the spotlight with an exciting website with eye-captivating visuals and contents and give you the tools that can conquer the world of your business - these nerds are creative, neat, very intimidating, cool and always evolving.
Blueflower Media has been a pleasure to work with, helping us rebuild our website and restructure our digital presence. Very patient and cooperative, Noman helped us construct a site that matched up to our specific expectations. Would highly recommend to anyone looking for branding/web-design services for realistic prices!
Talk to us about your digital business problems, and we'll find the perfect solution for you. We offer phone, video conference, and in person support for all of our clients.